Home Health Aide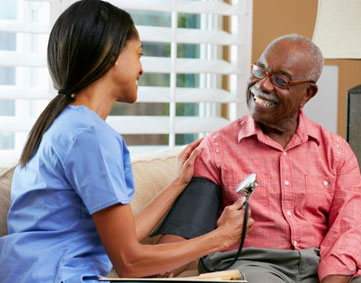 The Aides help your loved one with all types of personal care assistance. We help the elderly with hygiene, reminders about medication, and even just providing some friendly companionship. Our Home Health Aides are experts at what they do. They are all passionate about caring for the elderly. We hire strictly the best caregivers that apply for a position with us. Our hiring process is very stringent. We carefully vet all our employees. Our experts carefully match your loved one with a caregiver. A home health aide can take care of your loved one from the comfort of their own home.
Personal Care Aide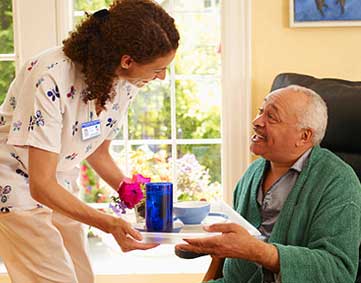 We provide the absolute highest level of personal care services for the elderly. Our certified staff members are well equipped to help seniors with daily activities that they cannot perform on their own, to help them maintain their quality of life as they age. Personal care providers from REGAL will help your loved one with things like brushing their teeth, using the bathroom, and assisting them with general mobility.
Companion Care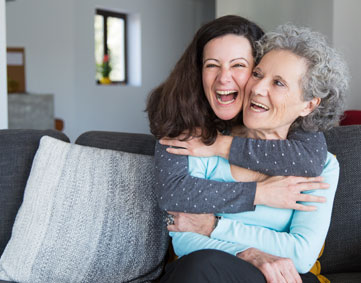 Caregivers can offer companionship for your elderly loved one, helping to keep them social and stimulated. All our caregivers are carefully selected during our hiring process. Our hiring process ensures that they are good companions for your family member. It is important for your loved one to continue to have a friend they can chat with day to day, eat meals with, or do other activities with. Put your mind at ease knowing that your relative has someone who cares about them taking care of them. Our caregivers go the extra mile with our clients, and we train every one of them to provide the best companionship possible. We pride ourselves on having the highest level of companion care for the elderly.
Nursing
Speech Therapist
Diseases like Alzheimer's and Parkinson's or events like stroke can lead to language and speech problems in seniors. Our trained healthcare professionals help individuals suffering from these swallowing and speech disorders through speech pathology. We offer inclusive speech pathology services on an hourly, daily or live-in basis—whichever suits best as per client's requirements.
Occupational Therapist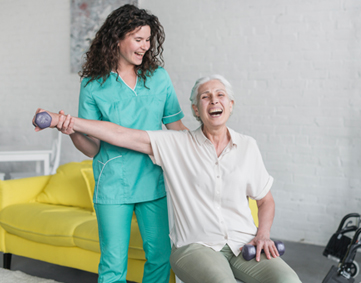 We provide occupational therapy to seniors with a mental, physical, or cognitive medical condition. We provide all the required care and support to seniors in living a normal life, irrespective of their disorder. Our trained professionals provide therapeutic care to patients along with the much-needed emotional support.
Physical Therapist
Nutritionist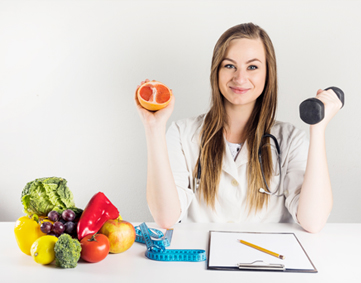 A balanced diet is important to all of us, but it is especially vital to the elderly and infirm, to provide them with healthy bodies and alert minds. Due to income limitations, dietary needs and rising food costs, patients often find it difficult to prepare nutritionally-balanced meals for themselves. Our nutrition counselors work with clients to ensure that their dietary and nutritional requirements are being met. These licensed and trained nutrition counselors utilize their knowledge and expertise to ensure that each client receives an appropriate and satisfying balance of vitamins, minerals, whole grains, fruits and vegetables. To accomplish this, the nutrition counselor first researches the dietary needs and preferences of the patient. Armed with this information, and in accordance with the patient's nutritional requirements, the nutrition counselor then creates a customized, specifically tailored meal-plan for the client, thereby making sure that this essential yet often-overlooked aspect of home care is met.
Social Worker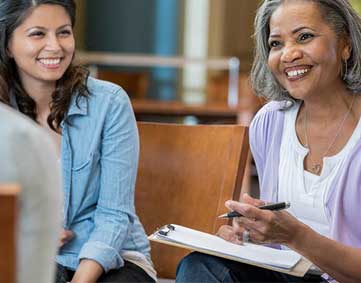 This is where our medical social workers intervene, working constantly to improve the quality of our patients' lives. These trained and certified professionals are among the most caring and sensitive people who work in the realm of elder care. They have highly-developed assessment and analytic skills. Our medical social workers evaluate a patient's social, emotional, and psychological needs. They then work directly with the patient and, if necessary, the other health care professionals assigned to the case, to build the tools and techniques through which the patient learns and regains the confidence to develop hobbies, engage in stimulating activities, nurture relationships and increase daily productivity. Social workers also offer patient counseling and are always available to lend a sympathetic ear.